About Janpreet
Janpreet Kaur chose to teach because she feels it is one of the most respectable and fulfilling professions."I am very happy and satisfied that I took up online teaching. I was bored with my mundane routine and joining emaester helped in my personal growth."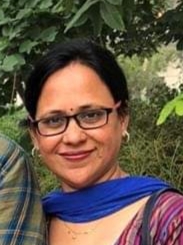 How does it feel to be an eMaester?
With homemakers, one of the most common things their family gets from them is undivided attention. When Janpreet started teaching online, her family naturally missed the undivided attention. However, with due course of time, she handled the situation well and now she is able to strike balance between the two.
Initial days as a fresher are never easy. However, gradually Janpreet has learned how to handle all types of students with different personalities. As her courses come to an end, most of her students say they are going to miss the daily classes. This is a great achievement for a teacher.
eMaester shows that if you have the zeal and enthusiasm you literally can do everything. People like Janpreet, who in spite of being qualified didn't have the chance to travel for work, found her niche in online teaching.
Advice to the future eMaesters
To her colleagues and future trainers, she would like to say: "Just be sincere and teach them with patience and your genuine efforts will pave way for the results. There are situations when your patience level will be tested, sometimes false allegations will be made by the students, take it in your stride."