About Nithya
I'm Nithya, an IT Professional, with more than 11 years of experience, passionate about language, sound, speech and especially teaching, right from my childhood. My job was quite interesting as I rose from a developer to a Project manager. I'd conducted online training sessions in my organization out of my love for teaching. However, I decided to take a break in my career for various reasons. I was exploring the work from home option as it's flexible and was sure that it would help me achieve work life balance. At the same time, I wanted to quench my thirst for teaching hence opted for a career change. That's when I came across eMaester ad in FB.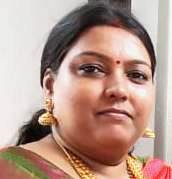 How does it feel to be an eMaester?
I applied and received an immediate response. I got enrolled in the course last September and underwent training for around 6 weeks. It was a good experience with supportive, friendly mentors like Neelam for fluentlife, Simlee for IELTS and Pavneet for PTE. They helped me in understanding the content, schedule, incentives etc. and the icing on the cake was the discussion on handling students and their focus/weak areas. They shared their experience which was very helpful. That was like a stepping stone for success as a trainer. The moment my trainers signed me off, i.e after the training, I started getting students. That was a "dream come true" for me and I was on cloud nine. Every student is unique and we customize the teaching methods according to the student's requirements. That's an interesting part here. I was over the moon when I got testimonials from my students. That helped me fine tune my capabilities further and ensured a constant learning for me. Whenever I faced issues with the sessions, I would reach out to my mentors for guidance. I would fail in my duty if I don't mention about my students who are my rejuvenators. Students are co-operative, frank, hard working and they enjoy the sessions as they find a tremendous improvement during the course.  Thanks to the extra-ordinary and comprehensive content of the courses.  Kudos to the online teaching facilities offered by the technological advancements because students and we as trainers are able to join the sessions at our convenient time at the comfort of home. 
Advice to the future eMaesters
Emaester is completely flexible and a great place to show and grow your talent in teaching.  So, if you are planning to take up a career in teaching with complete job satisfaction, steady growth, and financial independence, I would definitely suggest and recommend this eMaester course. I had already referred my friends and relatives to this program and they are thanking me for helping them become empowered and that makes me feel that I've played an important role in someone's life.